May 30th – June 27th
Opening reception Saturday, May 30th 6-9PM
The Garden of Fernal Delights is a sublime and paradisiacal place where all the delights of the natural world from the sexual to the surreal, the visionary to the instinctive, are celebrated as fundamental joys of being alive. The Garden of Fernal Delights is a multi-dimensional place where all is conscious and divinely intelligent from the animal to mineral to vegetable to the aetheric. All can communicate, co-create, cooperate. This Garden of Delights knows no violence, no notion of original sin, no hierarchy, no fixed temporal system. Rather it is a place of magic, of play and playfulness. It resides in the Garden of the heart and has no limit to its creativity.
The Fernal concept was conceived by artist Gromyko Semper and then developed together with artists Liba WS, Bruce Rimmell and a community of lowbrow, visionary, surrealist, magic realists and fantastic artists. The Encyclopeadia of Fernal Affairs and its traveling show express architecture, mythology, culture and all the other things that make the Garden magical.
artists in exhibition: Aloria Weaver, Amanda Sage, Bette Burgoyne, Brigid Marlin, Bruce Rimell, Carol Prusa, Carrie Ann Baade, Charles Wish, Craig Larotonda, David Heskin, Dengecoy Miel, Eli Tuinine, Erich J. Moffitt, Ernst Fuchs, Gabriela Garza Padilla, Gromyko Semper, Hanna Faith Yata, Hector Pineda, Heidi Taillfer, Joe MacGown, Kathleen Schmieder, Leeroy New, Leslie Ditto, Liba WS, Magi Culhoun, Madeline Von Foerster, Mark Henson, Martina Hoffman, Michel Bassot, Mike Davis, Otto Rapp, Pavel Gulyaev, Sandra Yagi, Sergey Tyukanov, Steve Kenny, Vladimir Ovtcharov, Zeljko Djurovic.
The Encyclopaedia of Fernal Affairs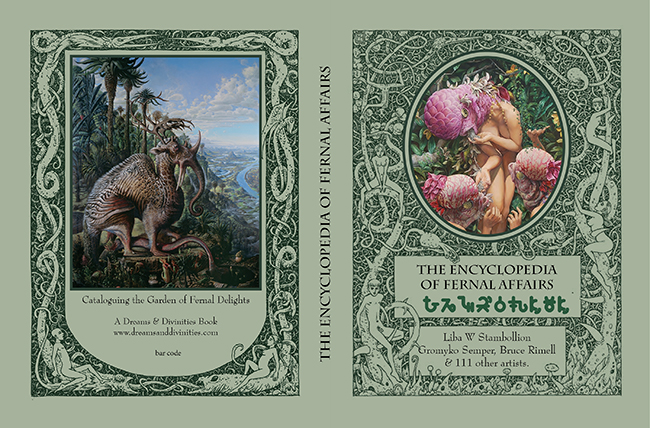 250 color pages of Fernal Delights
This bilingual limited edition book will be launched on May 29th.
A selection of the artwork along with a collage of the illuminated letters will be exhibited for the month. Liba WS who designed and produced the book, Bruce Rimmell who co-wrote and other Fernal artists from around the globe will be present for a bonanza book signing. Co-curator Gromyko Semper will join us through Skype.
This 245 page book is illustrated and written by 114 artists and both co-creates and catalogues the Fernal Garden of Delights get your copy: $70 [wp_cart_button name="Encyclopedia of Fernal Affairs" price="70.00″]